Ira Heiden
Ira Heiden is an actor, producer and voice actor. Born in NYC, he took his talents to Los Angeles where manager Marylin Sherman discovered him at a John McEnroe vs Jimmy Conners Tennis match. Ira's first job to get into the Screen Actors Guild was a Pepsi commercial played in movie theaters.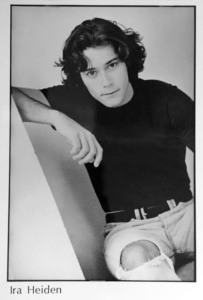 He went on to star in a Nightmare on Elm Street, 3 Dream Warriors, as Will Stanton. Next, he played  Rob Lowe's younger brother in Peter Bogdanovich's Illegally Yours. He then landed the wonderful role of Bo in Elvira Mistress of the Dark, in which he had the pleasure of working with Cassandra Peterson.
Ira has been on TV shows such as Family Ties, Step be Step, and Alias as CIA agent Rick McCarthy. Lately he has been doing voice work on films, such as Ghostbusters Afterlife in which he voiced some of the Mini Stay Puft characters.